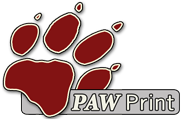 You can set your WOU Pawprint account password by clicking the link below.

To view your WOU Profile (email address, user name, student id), review the WOU Acceptable Use Policy, or set/reset your Pawprint password, click here




Not a PC user? Learn all about mail on a Mac...
Problems with Pop-Up Blockers...

You'll need to allow popups for the WOU site in order to retain full email functionality.